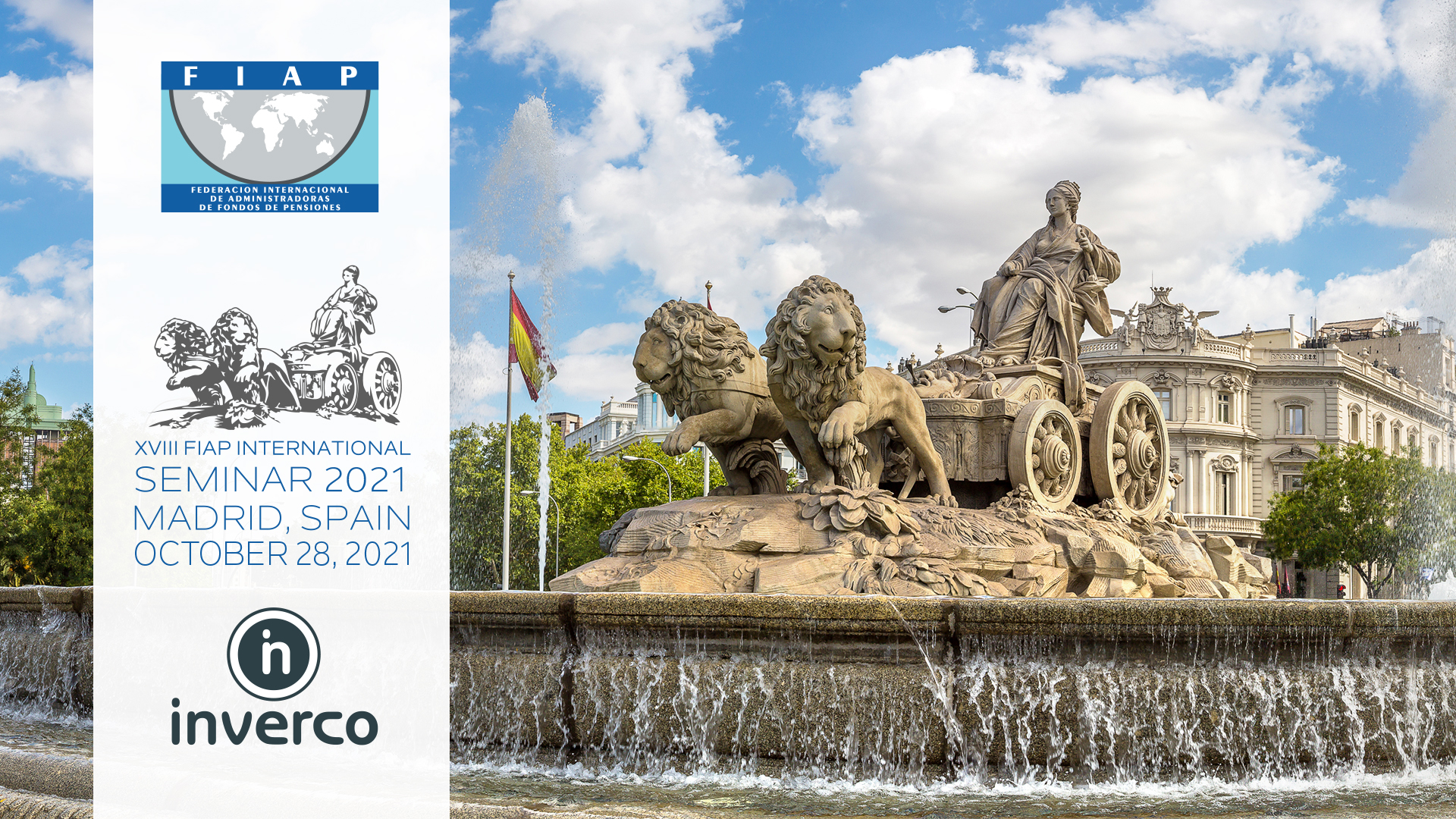 Welcome
We are pleased to invite you to participate in the 18th FIAP International Seminar "Ensuring compliance with the objectives of the pension systems," jointly organized by the International Federation of Pension Fund Administrators (FIAP) and the Spanish Association of Investment and Pension Funds (INVERCO), to be held on October 28, 2021, in The Westin Palace Hotel, in Madrid, Spain.

The seminar will address the reforms to the pension systems implemented or being discussed in Latin America and Europe, and their contribution to compliance with the fundamental purpose of the systems, namely, to grant adequate pensions to workers. The challenges faced by different countries in the demographic, labor, financial and social contexts will also be addressed, as well as the need to increase the sources of pension financing, especially in economies with high levels of informality, in order to improve investment efficiency. Special attention will also be given to the importance of applying appropriate communication strategies regarding essential aspects of the systems, thereby contributing to avoiding significant differences between expected benefits and those actually received.
Among the topics to be discussed are:
Pension system reforms considering labor, demographic and financial trends, as well as social demands.

New sources of pension financing in economies with high levels of informality.

The communicational challenges of the individually-funded pension systems.

Efficient management of the pension fund portfolios.
This Seminar coincides with the 24th FIAP Annual Assembly. As on previous occasions, the event will feature international experts speaking of their experience and knowledge in different areas of interest. The Seminar will be attended by participants from different regions of the world (FIAP members and others), including government officials, legislators, officials of international agencies, representatives of pension fund managers, mutual funds and insurance companies, and other personalities related to the financial sector and social security.
Thursday, October 28, 2021


08.30 - 09.00
Registration of participants

09.30 - 09.45
Inauguration of the Seminar

09.45 - 10.30
Conference: The Mathematical Logic of Planning for Old Age

10.30 - 11.10
Contributory PAYGO pension systems in the current demographic context

11.10 - 11.40
Coffee Break

11.40 - 12.20
Diagnosis and reforms of European pension systems

12.20 - 13.00
Current trends in Latin American pension reforms

13.00 - 13.30
Challenges of the South American economy and the influence of historical or religious factors on its development

14.30 - 14.50
New sources of pension financing in economies with high informality rates

14.50 - 15.10
Pension via consumption applicable today

15.10 - 15.40
Retirement Savings in Times of Covid-19

15.40 - 16.00
How Covid-19 and iconomics have transformed the world: consequences for Latin America and its Pension Funds

16.00 - 16.30
Coffee Break

16.30 - 17.00
Conference: Communicational challenges of the individually funded systems

17.00 - 17.20
Pension Multifunds vs. Target Date Funds

17.20 - 17.40
Sustainable Investment: fashion or megatrend of the future?

17.40 - 18.00
Pension Funds and Capital Markets: Contributions and Challenges

18.00 - 18.30
Closing remarks

Pablo
Antolin

Janwillem
Bouma

Rafael
Doménech

Petra
Hielkema

Philippe
Ithurbide

Todd
Jablonski

Kirsis
Jáquez

M. de las Nieves Lanzagorta

Jimena
Llosa

Mathilde
Mesnard

Moshe A. Milevsky

Santiago Montenegro

Jose Luis
Orós

Fredrik
Palm

Carlos Rodríguez Braun

Rafael
Rubio

Gonzalo
Rengifo

Michal Rutkowski

Your registration for FIAP's 18th International Seminar includes:
Attendance at academic sessions.

Working materials.

Coffee Break during breaks.

Lunch (October 28, 2021).

English-Spanish simultaneous translation.
Registration annulment policies:
Before October 10, 2021: reimbursement of 90% of the registration fee (penalty = 10%). In this case, refunds must be requested in writing from Producciones Mundo SA (see contact information to the bottom of this page).

Since October 10, 2021: 50% of the registration fee will be refunded.

Important note: If for any reason the seminar cannot be held face-to-face, 100% of the registration fee will be refunded.
Follow these steps to confirm your registration:
Provide your complete data.
Pay your registration with your credit card.
You will receive proof of registration via email, with all the details of what it includes. You can use this to register on the day of the Seminar.

If you wish to stay in a hotel other than the hotel hosting the Seminar, we recommend a list of nearby hotels (download here)
To optimize the navigation we recommend using compatible updated browsers: Chrome, Firefox, Edge and Safari.
For further information or queries regarding the registration process, kindly contact Producciones Mundo SA:
Mail: contabilidad@mundo.cl
Business hours: Monday to Friday, from 9:00 to 18:00 hrs (Chilean time)
VENUE
THE WESTIN PALACE HOTEL, MADRID, SPAIN
Plaza de las Cortes, 7, 28014.
The iconic hotel The Westin Palace, Madrid, is located on the famous Paseo del Arte and its construction was commissioned by King Alfonso XIII in 1912. This area links the most enriching museums in Madrid: the Prado, the Reina Sofía and the Thyssen- Bornemisza, and is very close to the most important monuments and some of the best tapas restaurants in the city. Crowned by an impressive tinted glass dome, La Rotonda restaurant offers delicious market cuisine made with local products and serves breakfast, lunch and dinner.
The 470 rooms and suites are fully equipped to meet the needs of today's travelers, as they include the luxurious Heavenly® Bed and the innovative Heavenly® Bath.
HOTEL AWARDS AND NOMINATIONS:
2020: "Best luxury hotel in Madrid", Luxury Lifestyle Awards 2020
2019: TripAdvisor Certificate of Excellence
2018: TripAdvisor Certificate of Excellence; Finalist as "Best urban hotel in Spain" Gold List of Condé Nast Traveler magazine
2017: TripAdvisor Certificate of Excellence
2016: International Business Travel Association (GBTA); Gold Medal as a provider of Project ICARUS
AMENITIES:
Buffet breakfast included in the Rotunda

WiFi

Air conditioning

Flat screen television

Security box in the room

Minibar

Phone
CORPORATE SPONSORSHIP
Due to the excellent relationship between the company that you represent and FIAP,
we would like to invite you to collaborate in the organization of this important event.

Should you have any further questions regarding sponsorship, kindly contact FIAP: